As longtime readers of this page will know, I am obsessed with this man, Haywood Stenton Jones.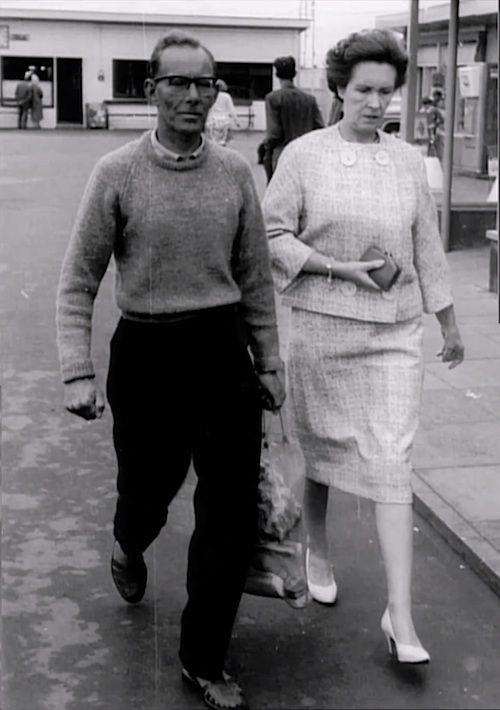 This photograph of Haywood walking with his wife Peggy seems to have been taken in about 1955, at a British seaside resort. We can see that Haywood is in holiday mode because of his elegant slingback gentleman's sandals (I searched unsuccessfully for a pair like that when I was in Britain this summer). Haywood's son would be seen twenty years later wearing similar footwear, clear jellied Sarrazienne Sun sandals. I'm talking, of course, about the singer David Bowie.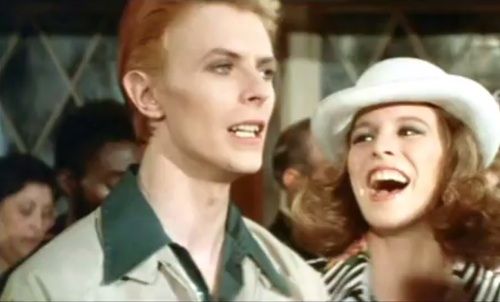 I'm interested in Haywood because he's a glimpsed answer to the question: "What's the cultural destiny of David Bowie's genetic material during a time in which rock and roll is not an available option?" Duncan Jones, the grandson Haywood never lived to meet, is another answer: in a largely post-rock era he's become a film director.

Earlier in his life Haywood harboured ambitions to be a singer of some sort, as did Peggy. Since Haywood resembles Bing Crosby a bit, it's easy to assume he would've been a crooner. We can imagine David and Haywood duetting on The Little Drummer Boy in the living room.

But since Haywood's artistic ambitions came to nothing, a further question arises: "What happens to an expressive soul when the path to expression is shut off?" This is interesting because blockage and failure are recurrent motifs in Haywood's son's work, and because a persistent impression given by Mr Bowie's work is that despite (or because of) its vast array of sometimes-histrionic self-expression, the self behind the speech remains unknown.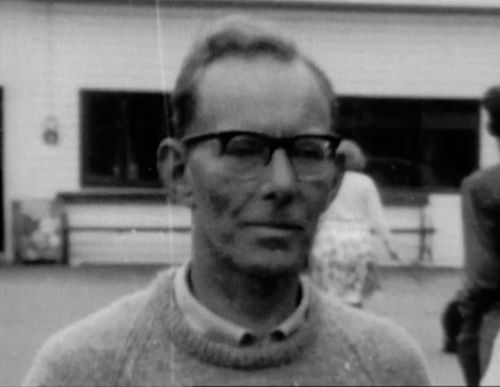 I'm also interested in the paradox that although David has portrayed extraterrestrials and aliens many times, his father does a much more convincing impression of one, in the sense that a British person pre-1960 is a strangely extraterrestrial being. He's certainly out of the world that we recognise. There's a sense of formality and distinctness about him ("the last truly British people you'll ever know," in Morrissey's words) which hasn't yet fallen into line with the mass global forms of the postmodern monoculture (denim, trainers, Coke, jets). He remains apart, contained, different. He belongs and yet doesn't belong to his drab world, which perhaps — if we could visit it in a time machine — would turn out to be the least drab world we've ever been to, a place filled with the unrepeatable hues of early colour film.

Haywood is a being formed by an alien Modernism, by a world of Thermos flasks, ration books, coach trips and gas masks. It's a world much revived currently, whether in the Britain on Film documentaries on BBC 4, or the curatorial caprices of international exhibitions like Manifesta 9. Haywood's is an orderly and ascetic exterior hiding, possibly, a vivid interior. He could be Winston Smith as portrayed by John Hurt (Haywood was actually brought up by the state following his own father's death in World War I, though whether he loved it like a parent or a big brother is not recorded). He looks, in this picture, like a purposeful idealist, and this holiday is time out from his duties as a Case Officer with the Dr Barnardo's childrens' charity.



During my recent trip to Scotland I visited those relatives of my own who come closest to Haywood's generation. Amongst them is my uncle John, a classical musician with whom I was able to compare notes on sampling and synth sounds, though used to very different ends in our work. I think that's the thing that really fascinates me: how similar skill-sets and interests play out in different historical times, times in which everything is just the same… and completely different. It's somehow uncanny, and Haywood Stenton Jones is, with his resemblance and non-resemblance to a postmodern celebrity we know rather well, highly uncanny.