Someone called Susan emailed me a link to a fragment of colour film of David Bowie entering a building somewhere in London sometime in the 1960s.



The scene, brief and looped, has the elusive appeal of a new Yeti or Bigfoot reel. Joe Salama, who posted the fragment, says: "This exceptional cine footage was taken by my late father on a trip up to the West End of London totally unaware that David Bowie was the young dude that smiles graciously at the camera."



"Even when I showed him what he had filmed," continues Mr Salama, "he was none the wiser and couldn't remember why he focused on this particular chap. The face fleetingly seen behind Bowie is that of my mother. Roughly dated to 1968."



Well, I thought I could do better than that, and before long I'd googled enough to publish with some confidence the true facts of this remarkable document. Somebody in the comments points out that it's more likely to be 1966 or 1965. I'm able to confirm that this is spring 1965. Bigfoot — I mean Bowie, or rather Davie Jones, as he's still called at this point — is seen walking in a westerly direction along the south side of Denmark Street, London's Tin Pan Alley, where in May 1965 he recorded a demo with his new band The Lower Third (Tea-Cup, Death and Les, who resemble the three bowl-headed lads seen walking through the arcade) at Central Sound Studio.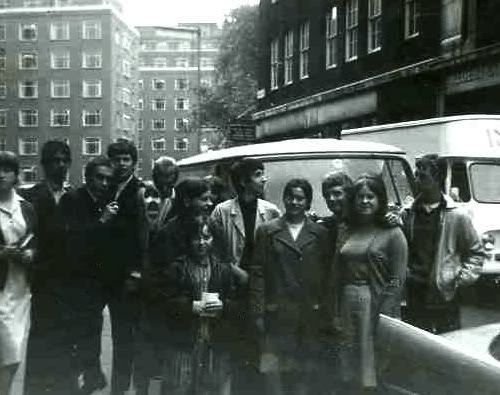 Googling the shop names seen in the clip — Anchor Restaurant, Albany Books, Pollard — didn't help much, but I found this photo of a band called Pinks posing in front of the same 1960s blocks of flats (at Eamshaw Street) you can see behind Bowie in the clip.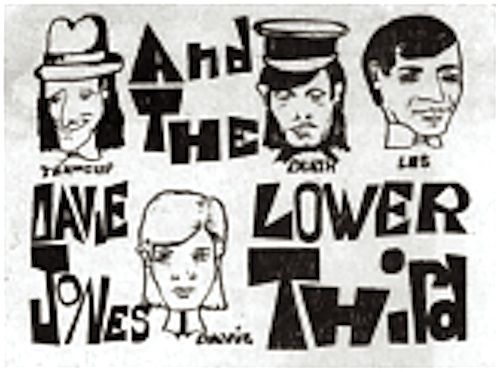 I also found this Lower Third handbill, drawn by Bowie himself in 1965, showing him with the same hairstyle and the same high rounded shirt collar you see in the film.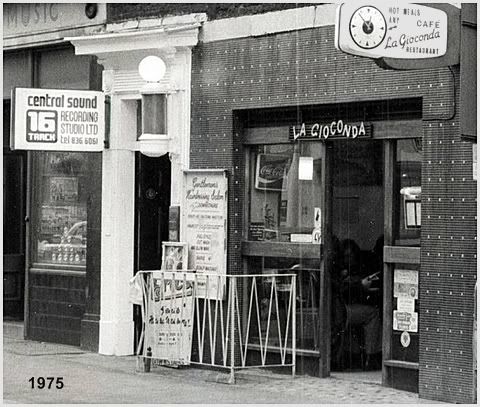 Central Sound Studio was right next to the La Gioconda cafe, famous as the place where Bowie met The Lower Third and also schizo-rocker Vince Taylor, later to serve as the inspiration for Ziggy Stardust. In fact, I'm pretty sure La Gioconda is where Davie, after flashing his charming smile at the unknown cinematographer, is heading.