I just wrote an afterword for this book by Audun Mortensen, a 26 year-old Norwegian artist based in Berlin.




Mortensen has gone through the books of Slavoj Žižek, extracting just the jokes. It makes for a very funny and interesting read; like a one-man oral folk culture or a drunkenly erudite uncle at an East European wedding (his jokes often come from Freud, Derrida and Lacan, but are sometimes described as "vulgar" or "low class"), Žižek uses the same joke in different places to point up different morals.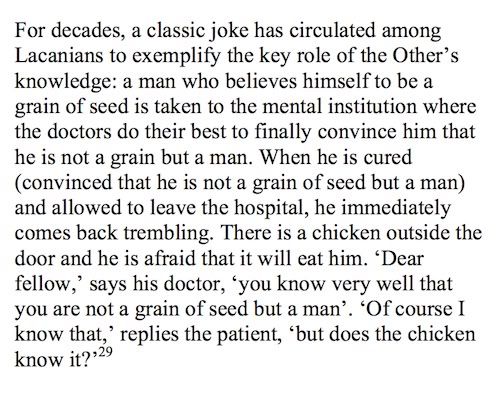 This joke is of course even funnier when you imagine it being delivered in Žižek's splattery Daffy Duck voice.

This is what Mortensen looks like:




The Collected Jokes of Slavoj Žižek contains every joke cited or paraphrased by Žižek as found in his English books, from The Sublime Object of Ideology (1989) to Living in the End Times (2010). A single copy in coffee-table format was printed in April 2011. In February 2012 the book will be published in an edition of 250 by Flamme Forlag in a series of conceptual literature entitled Factory. The new cover will be by Yokoland.